This was fascinating title that instantly had me pop onto it (BBC article of same name).  It turned out to be the overwhelming uninvited responsibility, demand and pressure of having Banksy show up, unknown to the owner of the small business, and leave his infamous social commentary via art that will outlive him and rival any of the artists in the past three hundred years.  That's just it – he has a life, a business and now he's managing an art installation and has a responsibility for it, though he never asked for and is not prepared for such pressure or responsibility.  I get it!  We bear burdens that we never asked for all the time.  We bear pressures that are not ours, but we must as responsible people bear them.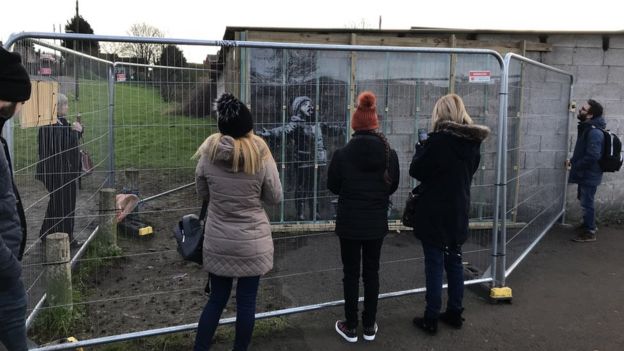 What it left me thinking about was actually the pressure of today – a day and age where there is instant, immediate in nanoseconds what is occurring around the world.  It's not more, we just know about more now.  In fact, there is so much, news agencies (editors) must prioritise what to even share with us, because it's overwhelming.  For Christians well over 100,000 saints are martyred every year.  How many a day?  …a lot!  BUT we get an article a week – and I'm thankful we get that.
Yet, this is only the tip: there are climate issues, economic issues, refugee issues, famine, war, a plethora of natural disasters, crime, malfeasance and crazy national leaders doing really dumb stuff EVERY DAY!   Honestly, I'm so pulled to retreat, to hide, to simply respond to how I am doing questions with, "Just doing me."  It'd be simpler, I could find my emotional and psychological Zen space with God and love people from the overflow.  I could monastic it so easy!  Read, pray, Scripture, and nice small very localised faith.
Yet we cannot do that! It's not the nature of the one emulating and following Jesus.  Anglican, Catholic and Orthodox priests are assigned a cure when they are the priest, vicar of local parishes.  Bishops have a see (larger cure).  In simple terms, there is the responsibility to care, to give a damn, to pastor, love, bear witness, speak into, heal, right, disciple the entire cure (area) assigned.  As the church we are assigned cure of the world.  Yes, the world.  Sure, it begins with our immediate cure, our church's cure, our diocesan cure/see, but it is for us, the Body of Christ to care for the world, and to help individuals and entire societies to get a glimpse of God's face in how we act, speak, feel, prophetically speak to power, right wrongs, heal, and share-sacrifice our lives for them… even loving enemies.  I need not quote verses if you are still reading.  If you need verses – use Google!
But as the sun sets where you are today, yes, it's not what you asked for, it's not even within our ability to carry.  It's not within our ability to even carry in our hearts.  Somehow we trust God through it, in it, and as we walk through it.  We must steward, care for our cure – even if we now know so much more of what is happening.  As we go, we depend, trust, that Christ will weave our small efforts and prayers and entrust it to Him.  BUT like the small business owner, now stewarding what will be a historic treasure, we cannot simply walk away either.